Collinear Antennas
Full bandwidth, VHF, UHF, 200 MHz
Weather and corrosion resistance
Heavy duty construction
No tuning required
Public Safety DAS Solutions
EMR DAS Peripherals and Bi-Directional Amplifiers address the toughest In-Building challenges.
EMR Dipole Antennas are available in VHF (136-174 MHz) and UHF (360-520 MHz) bands. All welded, electropolished stainless steel, suited for the harshest environments.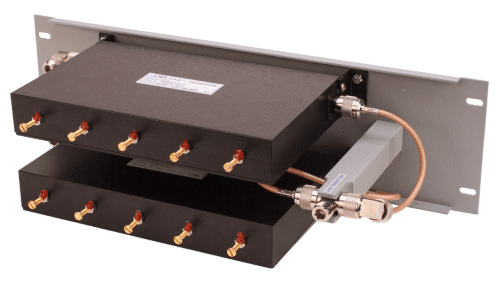 We have you covered from 30-1000 MHz.  Land-Mobile amplification and filtering RF peripherals
Compact Combining solutions for VHF, UHF, 700/800 MHz. Full Duplex, ideal for Digital RF Repeater Systems.
In-Building Solutions
Fully customizable BDA/UDA Systems, Battery Backup, Remote Power Monitoring.  NFPA Compliant, automated gain control with optional 80+ dB adjustable system gain.
SYS Series Combiners
Easy to deply hybrid combiner technology in VHF, UHF, 700-800 MHz bands.  allowing proximity/adjacent channel combining with spacing as close as 6.25 KHz.
Antenna Duplexers
EMR antenna duplexers allow for the use of a transmitter and receiver onto a common antenna. Our square cavities provide greater Q while requiring minimal space.
Receiver Multicouplers
EMR Receiver Multicouplers allow several receivers to share a common antenna. These units include a preselector, amplifier, power supply and power divider.
Intermod Products
 EMR Corp W-Series ferrite Isolators/Circulators maintain low insertion loss with stable operation while providing excellent isolation for single and dual stage units.
Cavity Resonators
EMR Cavity Resonators are available in Band-Pass and Pass-Notch styles. Multiple cavities may be connected for greater selectivity with minimal insertion loss.